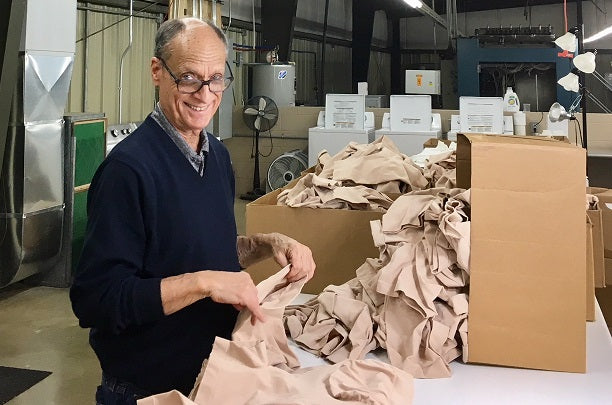 Belevation Relocates to North Carolina
Turn at the Food King supermarket sign, traveling past Myrick Construction and you will arrive at Belevation's new Biscoe, NC headquarters.  Freshly painted in bright Sherwin Williams Revel Blue, Belevation Maternity has breathed new life into the 1975 metal structure which was ironically built for the women's apparel company, Jeanette Maternity.

An online search for Jeanette will reward you with images of vintage maternity attire including a sweet A-line blouse, with a perky white collar inspired by Lucille Ball's 1950's pregnancy outfits. Jeanette occupied the space until 1992, when North Carolina hosiery manufacturer Bossong Medical purchased the property to house their packing department.
Fast forwarding to 2017, after several decades of US textile trade deficits, Bossong began consolidating their packaging staff back into the companies Asheboro headquarters. The timing couldn't have been better for Belevation's CEO, Thomas Miles who had been searching in the Charlotte area for a larger space to expand his seamless knitting company.
During the spring of 2017 it was decided that Belevation would relocate to the 14,000 sq ft Biscoe building, with a June move-in date.  Montgomery County, NC turned out to be the perfect place for Belevation, with the regions long history in the hosiery and apparel industries, a skilled workforce and nearby yarn suppliers.  
A well-seasoned textile engineer, Tom Miles graduated from the Philadelphia College of Textiles (now Philadelphia University).  He has thrived in the ever-changing US textile industry for a half century, starting his career with Allied Chemical, Milliken, Springs Industries and later freelancing for trendy NY knit converters.
Immensely creative, in the late 1980's Miles opened NJ based Circular Knit Services, a knit design studio which supplied quick turn knit swatches to a who's who of retail and apparel industry giants including Polo Ralph Lauren, Hilfiger and Abercrombie and Fitch. 
With Asian Mills beginning to offer complete design to production packages though, around 2007 Circular Knit Services workload slowed for the first time in twenty years.  This might have been an opportunity for Tom Miles to consider slowing down too, but that was not the case for someone always looking for the next challenge. 
At the company's prior location in Fort Mill SC, Miles began using a fully electronic seamless knitting machine to create a line of supportive Maternity undergarments called Belevation - the Belly Elevation Innovation.  Through constant effort and lots of trial and error over the past decade, Belevation's garments have become mom favorites on both Amazon and on the company's website.
Like a late life baby, Belevation Maternity has been a surprise for retirement age Miles and his wife Susan, who enjoys her role as an advocate for all things for and about Mom's.  The company will soon be adding a group of postpartum support garments and seamless leggings to their assortments. Lucille Ball would have loved them and we know that you will too.